As part of our ongoing series speaking with chefs who love STEELPORT knives, we visited our friend Chef Aaron Adams who uses his STEELPORT 8" Chef Knife, 10" Bread Knife, and 4" Paring Knife to create our favorite plant-based meals here in Portland. Read on to learn more about Aaron and why he chooses STEELPORT knives to use at his two lovely restaurants.
Chef Aaron Adams believes that everyone deserves dignity and respect, and cooking is one way to provide that for people. He feels that feeding people is, at its core, an intimate experience, and you need to navigate that relationship responsibly – from offering them tasty and healthy things to eat to making them feel welcome in your space.
He was drawn to cooking professionally when he saw some swarthy-looking guys in chef whites smoking cigarettes by a dumpster behind a restaurant – tough and working class. He became obsessed with kitchen culture and pursued a career.
He went on to cook at several restaurants in Seattle, then at a resort in Guam, then to Miami, New York City, and Jacksonville, Florida, until he finally arrived in Portland, Oregon where he's been central to many of the city's best plant-based dining experiences for the last 15 years.
Aaron currently owns and operates two vegan restaurants in SE Portland – Fermenter and Workshop.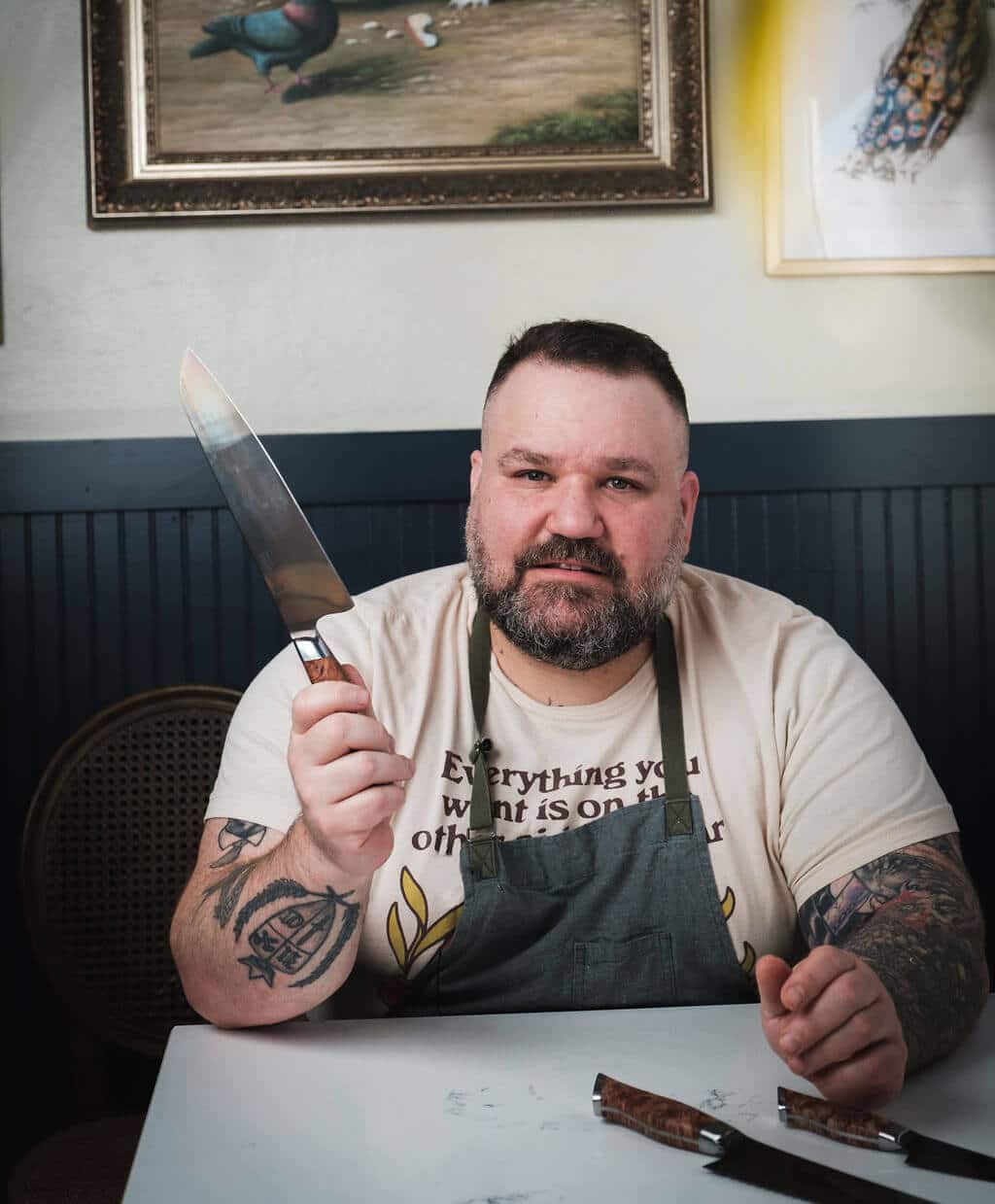 Fermenter's ethos centers around accessible, seasonal, handmade craft food made with local organic agriculture and goods. They serve food that's craveable, but also good for you. Aaron sees hospitality as an essential part of being human, and Fermenter abides with an ever welcoming atmosphere and staff.
Located next door to his beloved Fermenter, his new space, Workshop, leans on the microorganism-driven expertise cultivated from Adams' 30 years of experience in the restaurant industry, alongside inspiration sourced from his culinary journey, his Cuban roots, and the (not-so) lost charm of Old Portland.
Aaron has been a huge supporter and fan of STEELPORT since we launched in 2021. We spent some time with him as Workshop was preparing to open, and chatted about his love of cooking, feeding people, and how the right knives help him materialize that:
Can you share a bit about your cooking style, at Fermenter and here in your new space, Workshop?
Fermenter is our current restaurant and we have a huge focus on fermentation there from making our own kombucha and kefir. We make our own ginger beer, we make tempeh from scratch, we do a lot of stuff – we make Shia koji, we make our own miso etc. etc.
Workshop is hard to pin down exactly what it is. The food and drinks inspiration comes from my nostalgia, and I happen to be Cuban but it's not a Cuban restaurant. It's a distillation of different experiences. We offer a multiple course tasting menu that showcases the Pacific Northwest with glimpses of my heritage through some preparations and ingredients.
What does having a sharp, high quality knife mean to you?
As a kid working in kitchens, and especially when I was working in New York, we were all really competitive with how fast we could get our prep done – nobody in the kitchen had any hair left on their left arm generally because we're always shaving our hair off to test the sharpness of our knives! That spirit is still in me with my prep now. I want to make sure my knife is super sharp, and I want to work through all of my prep very quickly to give myself that time to slow down and do the things that are more skilled.
A STEELPORT knife is beautiful. The handle, the burl wood… just the little details on the knife. It has the vibe of a European knife, but it has a lot of the features of a Japanese knife, including not having a big fat bolster.
I love that it's mono steel because I like to sharpen my knife one-sided. So to be able to take that knife and to make it a one sided knife really works well for me – I'm too lazy to sharpen both sides! I like to sharpen on a vitrified stone. It's very hard. It doesn't take a lot of time to get that knife really, really sharp. And then to get rid of any sort of a burr I use a balsa wood strop with a diamond spray.
It's really cool to see a great carbon steel knife with a lot of thoughtfulness around the heat treat and the patina…. It's a carbon steel knife that's an actual option for somebody cooking at home.