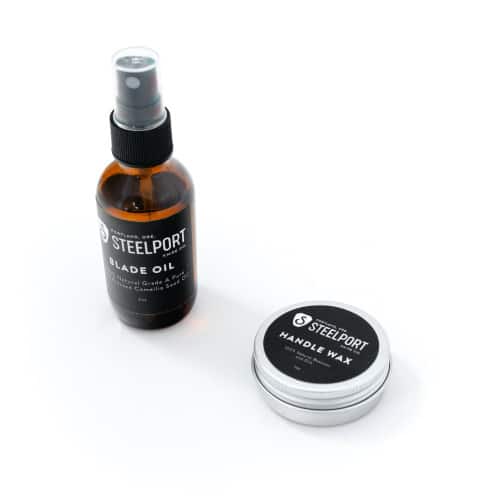 Handcrafted carbon steel cutlery is for those who take pride in keeping their tools at peak performance through basic maintenance.
Keep your carbon steel knife dry. Day to day care is as simple as hand-washing and drying your knife immediately after use. Use blade oil and handle wax regularly to protect and maintain the luster of your carbon steel blade and wood handle for years to come. A well cared for carbon steel knife will become a treasured family heirloom.
Carbon Steel Knife Care Kit
$45.00
Blade Oil
Ensure your blade is dry before applying oil. Use a clean cloth or paper towel to apply a thin layer of oil to the entire blade, wiping off excess as needed.
Oil your carbon steel blade regularly to maintain its luster and shine. A blade oil treatment is especially important before prolonged storage. The long shelf life and lack of odor and flavor make STEELPORT Blade Oil ideal for kitchen knives.
STEELPORT Blade Oil is food-safe 100% natural Grade A Pure Cold Pressed Camellia Seed Oil.
Handle Wax
Use a clean cloth or paper towel to scoop up a small amount of wax. Apply the wax evenly to the wooden handle of your knife, gently rubbing over all wood surfaces. Leave for 5 minutes and then wipe off any excess wax.
Apply handle wax treatment occasionally, especially if wood begins to look dry or dull.
STEELPORT Handle Wax is a food-safe mixture of 100% natural Beeswax and oils, made in Oregon.
STEELPORT Knife Co. is a small team dedicated to producing the finest trusted kitchen knives available. Our work combines premium materials, traditional forging technique, and American heirloom craftsmanship.
Founded by Bladesmith Eytan Zias and a highly specialized group of individuals, STEELPORT brings modern American innovation to traditional forging methods and materials.
Learn More
Customer Reviews
© 2023 STEELPORT Knife Co. All Rights Reserved.